British Columbia News 2007
B.C. Provincial Optimist Championship 2006
Dominic Fritz is the 2006 overall winner and BC Optimist Dinghy Champion
The 2006 BC Optimist Dinghy Championships were held in conjunction with the
Fall Dinghy Champs - hosted by the Royal Victoria YC Oct 2 & 3.
With some 29 Optimists (17 in the competitive and 12 in the green fleets) we
had great turn-out. Especially since running the event in the fall, we've
always seen numbers drop off from the summer due to sailors spending time back
in other sports.
The organizers pulled off an amazing job in short order as they had to cope
with over 124 registered boats - together with parents over 300 people to feed
at the Saturday night BBQ. The event had strong & shifty winds under darkend
skies the first day and then a sunny but light wind finish the second day.
Mixed with tides in Oak Bay - just off the RVYC marina, it made for a good
challenge for everyone.
By fleet results as follows:
Red Fleet:
Reid Cannon
Aiden Koster
Alexander Kroitzsch
Blue Fleet:
Dominic Fritz
Natalia Montemayor
Cameron Ho
White Fleet:
Alexander Fritz
Grant Hardisty
Alexandra Butler
Green Fleet:
Kenya Chung
Jeffrey Connelly
Jordan Copps-Evens
Canadian Championship 2006 hosted in B.C.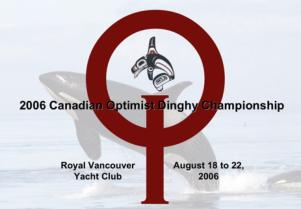 Top Canadian Boy went to Ted Murphy who sailed in his final year in the Optimist and top Canadian Girl went to Emily Nicoll.
Thank you to everyone – the sailors, the officials, the coaches and the volunteers – who made the 2006 Championship a great and memorable Regatta! Special Accolades to P.R.O. Guy Walters fro his high quality execution of 12 exciting races.

CONGRATULATIONS th the , 12 year-old, Jordi Xammer of Barcelona, Spain for providing us all some terrific entertainment on the water and back at the clubhouse!

A special THANK YOU to all of the gracious and helpful staff at our Host Club, The Royal Vancover Yacht Club, for giving this year's event a first class home.

See you all next year in Quebec!
Harald Fritz, Co-Chair. / CODA Prez.