NEWS Updates
December 31, 2011
Fairwinds and fast sailing to our Canadian Optimist Sailors at the 2011 World Optimist Championships. Track thier progress at the OPTIWORLDSNZ site or follow them on thier blog.
December 31, 2011
Follow our Canadian Optimist Sailors competing in the Orange Bowl Regatta in Miami Florida.
November 25, 2011
The CODA International Teams Committee is pleased to announce the composition of Canadian Teams for the 2012 IODA International Events. Thanks to all sailors who expressed their strong interest to participate by responding to the invitations sent and posted deposits to confirm their qualification or to be on the waitlist. For those who have not earned a spot on the teams right away you may still be contacted in the coming months if by any chance a spot becomes available. In the meantime your deposit will be returned.

Congratulations to the following sailors who are going to represent Canada in 2012:

WORLDS (DOMINICAN REPUBLIC)
Justin Vittecoq
Jared Collinson
Coralie Vittecoq
Owen McNeil
Julien Brunet

EUROS (ITALY)
Jack Rieder
Derin Bilgen
Lauren Sullivan
Andrew Moreno
SUDOPTI (ARGENTINA)
Justin Vittecoq
Coralie Vittecoq
Philippe Pasquin
Henry Lockyear
Lauren Sullivan
Chantal Bourque
Jilian Eisener
Tara Yuen
Siobhan Golonka
Maxime Daviau
OPTINAM (MEXICO)
Justin Vittecoq
Noah Collinson
Owen McNeil
Julien Brunet
Derin Bilgen
Eric Lyall
H enry Lockyear
Ciaran Beveridge
Chantal Bourque
Siobhan Golonka
THE CODA INTERNATIONAL TEAMS COMMITTEE

November 22, 2011
The invitation letters have been sent to all qualified and waitlisted sailors for the 2012 International Teams. The list of qualified and waitlisted sailors that expressed intersted and submited the required $400 deposit for one or more regattas can be found here
November 16, 2011 - Canadians extend their sailing season in Bermuda.
Last week 8 of our CODA members set sail to Bermuda for the 2011 PWC Optimist Dinghy Bermuda National and Open Championships. Winds were pretty strong all week peaking on the first day of racing that was cancelled as Tropical Storm Sean brushed the island with 50-60 knots and pounding waves. Racing finally started on Saturday with 6 races in a 10-15 kts breeze shifting gradually to the northeast. Famous Bermudian Olympian Peter Bromby was the PRO. He ran a tight Race Committee and after 5 general recalls in the first race, the black flag became necessary for the whole serie to keep a very keen fleet of 53 boats on the good side of the line before the start.
The second day was another big day. Stronger and steadier winds peaking around 20 knots allowed 5 more races in very nice weather. In total 11 races crowned Will Logue (USA) as the Open Champion followed by Justina Pacheco (DOM) and Jack Parkin (USA) in third. Our first Canadian Justin Vittecoq was not far behind in 7th place. Bermuda Champion Rory Caslin followed in 8th position.
This regatta was also a first step qualifier for the Bermuda National Team going to Sudopti 2012 in Buenos Aires next April.
Other Canadians finishing order is Owen McNeil (11th) Coralie Vittecoq (27th) Chantal Bourque (32nd), Derin Bilgen (36th) and sisters Tara and Siobhan Golonka respectively 43rd and 46th. Aiofe Golonka in the Green fleet, only 5 yrs old was the youngest participant, finishing all of her races. Full results, photos and blog can be found here
All Canadians were very happy to be there and benefit from the hospitality of Bermudians. Existing friendship links forged over the last seasons were strengthened and we hope to send an even larger group to the same event next year. This is an excellent and relatively affordable way to extend our short sailing season in warm water and weather...
November 2, 2011

The invitation letters have been sent to all qualified and waitlisted sailors for the 2012 International Teams.
Letters were sent to the TOP 40 sailors in order of ranking at the 2011 Canadian Optimist Dinghy championships in Lunenburg and eligible to participate representing Canada at Next years IODA International Events.Rankings at the 2011 CODC is available here.

Response is required no later than November 15th 2011.
The Canadian Optimist Dinghy Association International Team selection process is very detailed and should be reviewed by all CODA members.
September 3, 2011

Congratulations to the Top 5 Male and Top 5 Female Optimists sailors at the 2011 Canadian Optimist Dinghy Championships

CODA Top Canadian Optimist Sailors of the year 2011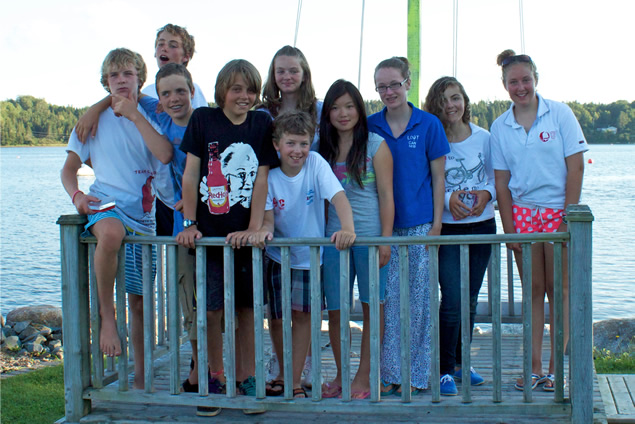 Picture (left to right): Matti, Jared, Peter, Noah, Justin, Coralie, Tara, Jillian, Chantal, Lauren
Male:
1] Justin Vittecoq
2] Jared Collinson
3] Peter Ehvert
4] Matti Muru
5] Noah Collinson

Female:
1] Coralie Vittecoq
2] Lauren Sullivan
3] Chantal Bourque
4] Jillian Eisener
5] Tara Yuen
August 26, 2011

The Canadian Optimist Dinghy Championships, hosted by the Lunenburg Yacht Club, have concluded with 2 races sailed on Friday to complete 12 races in total. Conditions for the event challenged the 85 sailors from across Canada, the US and Bermuda. Ranging from 20-25 knots on Monday to a peaceful 6-10 knots on Friday, the overall winner was Justin Vittecoq (Blue Fleet - 11 and 12 year olds) from Hudson Yacht Club/RCYC with consistent top ten finishes to finish 2 points ahead of Jared Collinson (Red Fleet – 13, 14 and 15) from the Royal Canadian Yacht Club. The other sailors in the top 5 were Peter Ehvert (RCYC – Red)), Coralie Vittecoq (HYC/RCYC - Red) and Matti Muru (RCYC - Red).  The winner of the White Fleet (10 and under) was Campbell Patton from Bermuda finishing in 22nd place overall. Top competitor in the 10 boat Green Fleet (Novice) was Samuel Court from the Lunenburg Yacht Club. Final results for the Championship and Green Fleets can be found on the event website www.opti2011.ca under competitor info.

As well as the overall winner of the regatta and the Blue Fleet, Justin has been invited by the Bermuda Optimist Dinghy Association to sail in the RenRe Junior Gold Cup to sail against some of the top Opti sailors from around the world whose countries are represented at the Argo Gold Cup Match Racing.
August 1, 2011

Notice of Meeting - Take notice that the Annual General Meeting of the Canadian Optimist Dinghy Association will be held on 24 August, 2011 at 1800 hours at the Lunenberg Yacht Club, 734 Herman Island Road, Lunenberg, Nova Scotia.



The Agenda will be as follows:

The order of Business at the Annual General Meeting shall proceed as follows:

a. Minutes of the previous general meeting.

b. Business arising from the minutes.

c. Reports of the Officers.

d. Reports of the Committees.

e. Determination of location of the next CODA National Championships.

f. Nomination of the Officers.

g. Election of the Officers.

h. New business.

i. Adjournment.

Further information will be posted to the website as it is available.

RESOLUTION - International Teams Constitution Update - Draft Bylaws Update - Draft
July 31, 2011

Report from 2011 USODA New England Championships hosted by the Beverly Yacht Club, Marion, MA, July 29-31, 2011. In total 13 races, sailed in varying conditions, were held over the three day regatta with 285 boats competing.

Day 1 - an exhausting 6 races in the breeze averaging 15 kts (12-18)
Day 2 - a challenging 5 races in a shifty Northwesterly averaging 12 kts (10-15)
Day 3 - a steaming hot wait for wind rewarded by 2 more races in 8-10 kts to wrap-up the regatta.

Race management and on-shore logistics were exceptional to accommodate the 285 boat fleet divided every day in 3 divisions.

Twenty-two Canadian Opti sailors made the trip, mainly representing the RCYC in Toronto, the RStLYC in Montreal and the RNYS/COAST in Halifax. Remarkably the 3 Golonka sisters (respectively 9, 8 and 5 yrs old!!!) from the RVicYC in Victoria were also there. The Canadian armada was led by Jeremy Fraser from COAST who came in 13th overall just short of the Top 10 in the Red Fleet. Four others made the top 50, Jared Collinson (34th), Noah Collinson (40th), Justin Vittecoq (41st) and Matti Muru (43rd).

No less than 12 Canadians had at least 1 top 10 finish!!! Congratulation to Jeremy, Jared, Noah, Justin, Matti, Julien, Jake, Ian, Coralie, Cameron, Henry and Siobhan. For complete results click here.
June 19, 2011

The 2011 USODA Great Lakes Championship hosted at the Buffalo Canoe Club concluded on Sunday with a total of eight races sailed over 2 days. Canada placed 3 sailors in the top 10 with Owen McNeil (CAN1522) placing 3rd, Justin Vittecoq (CAN1465) in 5th and Peter Ehvert (CAN1260) in 8th. Congratulations on a great regatta. Click here for results.
June 13, 2011

Cultus Lake Sailing Club, BC held the Sockeye Cup and hosted 33 Optimists. Click here for the results.
May 8, 2011

Royal Victoria Spring Dinghies 2011 - The wind was 15knots shifty difficult conditions day one. Unfortunately only 4 of the green fleeter were able to sail on the first day. The second day was light wind with 3-5 knots that day and only 3 races. In addition a number of sailors who competed in 2010 Optinam have graduated to other fleets. In this race we had 1 in radial, 4 in 4.7 and 3 in 29er. Victoria sailing families provided great hospitality with billeting opportunities for many, homemade lunch and providing dinner for all. Click here for the final results.
May 1, 2011

Royal Vancouver hosted the first optimist regatta of the 2011 season the annual Kitten cup. The first day was sunny with 10-15 knots and second sun again with 5- 10 knots. There were 60 optimist racers in total. In addition there were fleets of 29 er, 420, laser full rig, radial and 4.7. In addition there was a masters category added for over 18 racers in all fleets except opti which attracted a few parents. As usual Royal Vancouver had an excellent banquet dinner on the Saturday night, lost of door prices and good fun for all. Click here for the complete results
April 24, 2011

IODA South American Championships have concluded in Algarrobo, Chile. Top Canadian was Peter Ehvert (CAN1260) in 67th place out of 162 competitors. The rest of the team finishers were Julien Brunet (CAN1440) 118th, Derin Bilgen (CAN1492) 128th, Jared Collinson (CAN1474) 129th, Coralie Vittecoq (CAN1460) 133rd), Phillippe Pasquin (CAN1012) 135th, Justin Vittecoq (CAN1465) 143rd and Andrew Moreno (CAN1431) 156th. Click here for results.
April 19, 2011

IODA South American Championships are under way in Algarrobo, Chile. Top Canadian is Peter Ehvert (CAN1260) in 51st place out of 162 competitors. Click here for results.
April 4, 2011

The website for the Canadian Optimist Dinghy Championship to be held in Lunenburg, NS 20-26 August, 2011 is now active. More information will be posted as it becomes available.

Frenchman's Bay Yacht Club to host inaugural Spring Forward! Optimist Sailing Clinic 18-19 June, 2011. Click here for more details.
January 6, 2011

Final results from the IODA Worlds held in Malaysia - Peter Ehvert 67th, Reece Myerscough 114th, Derin Bilgen 190th, Eric Lyall 216th and Lloyd Lyall 223rd. Congratulations and great effort in a tough regatta. Click here for the final results. Click here for Tine's coaching report.
January 3, 2011

Welcome to 2011. Canadian Optimist sailors have been active on several fronts at the end of 2010 and into the start of 2011. In Florida at the Orange Bowl Regatta, hosted by the Coral Reef Yacht Club, 218 sailors competed over 7 races. Top Canadian was Matti Muru (CAN1415) in 108th, followed by Chantal Bourque (CAN1445) in 116th and Phillipe Pasquin (CAN1012) in 136th place. For complete results click here. Former two time Canadian Champion Meredith Megarry, sailing in the Club 420 with crew Emily McIlquham finished 28th out of 104 entrants.

Five Canadians are competing at the IODA World Championships being held in Malaysia competing against 226 sailors from 55 countries. After 8 races, Peter Ehvert (CAN1260) is in 26th place (with 3 top 10 finishes), Reece Myerscough (CAN1470) is in 110th, Derin Bilgen (CAN1492) in 188th, Eric Lyall (CAN1428) in 203rd and Lloyd Lyall (CAN1429) in 217. Racing continues on Tuesday after two days of team racing. Canada beat GBR in the first round before losing to USA and URU. For race results click here.
November 30, 2010

The sailing season never ends! And to that end, several Canadian sailors have been active over the last 2 months in some International events. Meredith Megarry (CAN1266), winner of the Canadian Championships held in August was invited to attend the Jr. Gold Cup held in Bermuda from October 7-10, 2010. Meredith finished 11 out of 31, competing against the country champions from over 13 countries. Click here for the complete results.

Peter Ehvert (CAN1260) accepted the Bermuda Optimist Dinghy Association invitation to attend their National Championships held November 13-14, 2010 at the Royal Hamilton Amateur Dinghy Club. Peter finished 15 out of 34 competitors against competition from a strong international fleet. Click here for the final results.

Peter and Matti Muru (CAN1415) competed this past weekend (November 27-28) at the USODA Midwinters held at the Southern Yacht Club in New Orleans, LA. Peter finished 43rd and Matti 102nd out of 230 competitors. Click here for the final results.

If you know of any Canadians sailing in International Opti regattas please forward the information to webmaster@optican.org
November 15, 2010

Canadian International Team selection for the 2011 events is in progress. Letters have been sent out to those sailors that have qualified and additional letters for those on the waiting list. Any inquiries can be addressed to intlteams@optican.org.
November 9, 2010

The first meeting of the 2010-11 CODA Executive was held on November 8, 2010. The Executive has setup an International Teams Committee, a Constitution and Bylaws Committee, a Safety Committee and a Regattas Committee to review and make recommendations of these important functions.
October 24, 2010

Further to the mandate of the CODA Interim Executive, an election was held to elect a new Executive for 2010-11. The ballots have been compiled and 51 ballots received for the election of President. All other positions were filled by acclamation. Cyrille Vittecoq received a majority of the votes and has accepted the role. Congratulations to Cyrille as new CODA president and thank you to Vello and his Interim Executive for their support and continued involvement with CODA. Click here to view the 2010-11 CODA Executive.

September 29, 2010

The minutes of the 2010 AGM held August 26th are available online, please click here for a copy. The CODA Bylaws and Constitution as amended at the meeting are also available. Please click here for the Draft Bylaws and here for the Draft Constitution.
August 30, 2010

The Canadian Optimist Championships finished on Friday, August 27th with 13 races sailed over 5 days in Hamilton, Ontario. Meredith Megarry finished first overall, followed by Allie Surrete in second. Jared Collinson was third overall and first place in blue fleet. The first place finisher in white fleet was Mikey Wollmann of Bermuda. Full results are online here.
August 26, 2010

The CODA AGM was held at the Royal Hamilton Yacht Club on Wednesday August 25, 2010 at 1800 hrs during which a new constitution was adopted and an interim CODA Executive was elected consisting of Vello Ehvert as President, Tanya Chamberlain as Secretary, Robert Snyder as Treasurer and Peter Kelly as measurer. Thanks to Jim Beatty, Cyrille Vittecoq, and Keith Richardson for their work in putting together the revisions to the constitution.